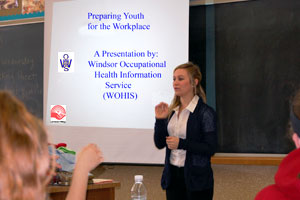 WOHIS & OHCOW deliver a 3-part program to students which helps prepare them for their first jobs and make them aware of their rights in the workplace. Over 3,250 students took part just last year!
Occupational Health and Safety
Employment Standards
Violence and Harassment
Each part of this program is 60 minutes in length and may be delivered individually or in combination. The program is delivered by University and College students to high school studentsin the classroom prior to starting that first job.
Please contact WOHIS for details: lgirard@wohis.org or (519) 254-5157 to book a classroom presentations.
---
Mission Statement
To provide the best possible occupational health and safety information to the community in order to:
Raise awareness
Promote change
Prevent workplace or environmental, illness, injury and disease
Services and Resources